We played @ Klas' Restaurant in Cicero  Saturday, October 15th
as part of the 3-day PRF Auktoberfest.  Mr. King took this photo: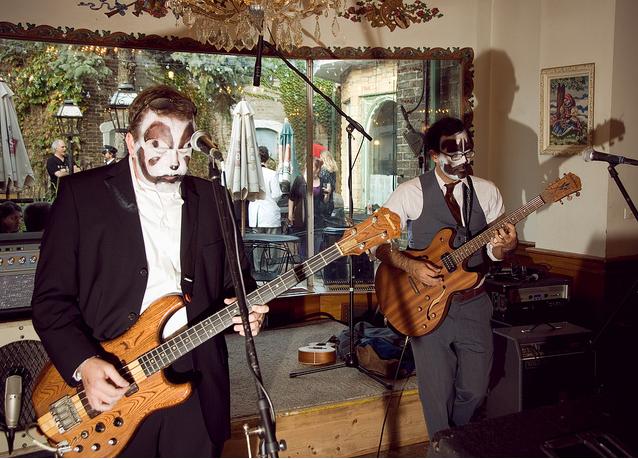 Jim Birch, Matt Engstrom and Rich Fessler did the A\V for the entire event:
Klas was gorgeous.  like playing inside a cuckoo clock. The rest of the show is here.
Show starts @ 2:00, Sm.Awes. will be playing @ 3:40
$15 for 11 bands, delicious lunch catered by Kitchen Sink, grilling in the evening, photo booth by Mr. King, and other incredibilites.
tickets are at the door, and it will most likely sell out, as Klas' room isn't huge.
Saturday October 16 @ Klas Restaurant in Cicero IL
2:00-2:30: Wereworm
2:50-3:20: Red Swan
3:40-4:10: Small Awesome
4:10-5:10: [BREAK]
5:10-5:40: Walking Shadow
6:00-6:30: Infrasonics
6:50-7:30: ZOOM
7:30-8:30: [BREAK]
8:30-9:00: Blacks
9:20-9:50: Mayor For Life
10:10-10:40: Minutes
10:55-11:40: Five-Eight
11:55-12:40: big'n
12:40-Close: DJ Panther Pants & The Ants In Pants Disco Dance Panther Dancers
***********************************
PRFAukBBQ (catchy, innit?) begins this Thursday and Friday at Quenchers.
On Friday, October 16th I will also be MC'ing for the Hype!, Live Band Karaoke Band that features,
among other incredible musicians, guitarists Brian Pennington and Peter Bardouniotis of Faiz Zeppelin.
Thursday October 14 @ Quenchers in Chicago IL
8:00-8:30: Light Coma
8:40-9:10: The Cell Phones
9:20-9:50: The Ethyl Mermen
10:00-10:30: Population
10:40-11:10: Slander Cannon
11:20-11:50: Phantom Works
12:00-Close: Lines and Terminals
Friday October 15 @ Quenchers in Chicago IL
8:00-8:30: Death Valley
8:40-9:10: Cmn ineed yr hlp
9:20-9:50: The Conformists
10:00-10:30: Red X Red M
10:40-11:10: Victory and Associates
11:30-Close: The Hype! (live band karaoke)
***********************************
Small Awesome is also participating in the PRF Singles Club, a subscription series, vinyl only compilation
with 48 bands over 8 12″ records.  each record is a limited pressing of  300 with 6 bands per record released quarterly over two years.
There are over 100 subscriptions already.  if you are interested, there is more information on the site.
We are also almost finished with our first full-length record.  details forthcoming.