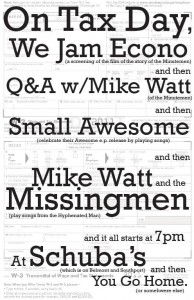 Small Awesome is pleased to announce the release show
for our Awesome e.p. on Tax Day.
it is our one year anniversary as a live band,
and this show should be pretty grand.
*****************
Friday April 15th
Mike Watt and the Missingmen
with Small Awesome
10pm, 21+ @ Schuba's
*****************
as an added bonus, Schuba's will be screening the exceptional documentary
We Jam Econo: the Story of the Minutemen before the show @ 7pm
with a Q&A with Mike Watt following.
tix and details available for both events here.
for anyone interested in attending both the show and the screening, if you order the show ticket online, the price for the screening/Q&A is only $5.
you can pay for this at the door with your will-call for the show.
thanks!